Soodus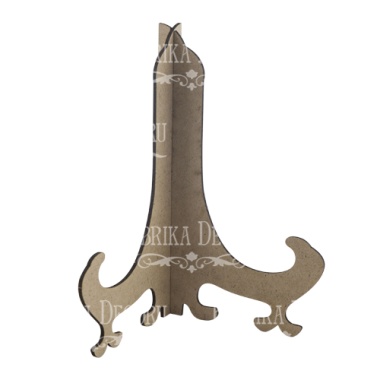 Blank for decoration
Blanks for decoration. Aimed at creating interior decorations, decorating holiday celebration parties and festive tables. The blank is made of 3mm thick MDF, it doesn't require additional sending. The blank can be decorated with paints, wood stain, scrapbooking paper, decoupage cards in the following techniques: decoupage, scrapbooking, mixed- media, painting.
Suits perfectly to display souvenir plates over 15 cm. Very stable.
How to use:
assemble the parts following the atteched step-by-step guide; where it is necessary, use some PVA glue which is included into a set.

the assembled project can be decorated. It is recommended to cover a project with acrylic varnish after decoration.
IMPOPRTANT! Do not break the parts out of the base. Carefully cut the parts at the attaching points.
Size: 122х122х200mm
Material: 3mm thick MDF
Non-toxic.
Do not give to children under 14
Made by TM "Fabrika Decoru", Ukraine