Soodus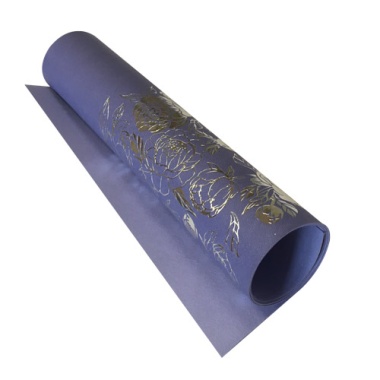 A cut of PU leather embossed with silver foil, size 500mm x 250mm.

The faux leather is made of high-quality Italian PU eco-leather (the base of it is a non-toxic, wear-resistant polyurethane, on a non-woven basis). Eco-leather blanks can be used to create covers (palettes) for albums, diaries, planners, notebooks, books, folders, etc.
The thickness of the material is 0.65mm and this quality makes it easy to cut various decorative elements and details from it by hand, on a plotter, or using punching machines. PU leather can be easily stitched with a sewing machine, does not crack over time, and is elastic. The material can also be fixed by using Universal, Professional binding glue produced by Fabrika Decoru.

Blanks made of PU eco-leather are presented in various colors and decorated with original patterns developed by the designers of Fabrika Decoru.

Note: on the reverse (back) side of the cut, traces of cutting, marks, remnants of fixing tape are allowed, which cannot be considered a reason for a return or complaint.

Features:
Size: 50cm x 25cm;

Do not expose to freezing or heat;


Keep away from fire!

Non-toxic;


For children over 14 years old.

Made in Ukraine, TM "Fabrika Decoru"