Soodus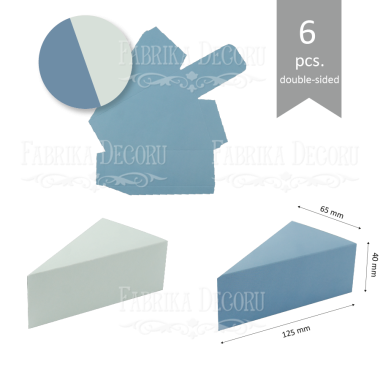 Set of cardboard blanks for gift wraps making (gift boxes, bonbonnieres, cap cakes wraps, etc).
The blanks are made of high-quality, environmentally friendly cardboard with a density of 300 g/m2. There are 6 similar shapes in the set. The assembled shape can be decorated by scrapbooking paper, using paints, stamping, decorative elements, fabric, ribbons, and other decorative materials.
Features:
• Size:125х65х40 mm
• Cardboard with a density of 300 g / m 2.
• The set contains 6pcs; TO MAKE A FULL ROUND CAKE, PLEASE PURCHASE TO SETS OF CARDBOARD BLANKS (you will need 12 cake pieces).
Manufactured in Ukraine, by "Fabrika Decoru"
PS Check out the video on assembling the cake!