Soodus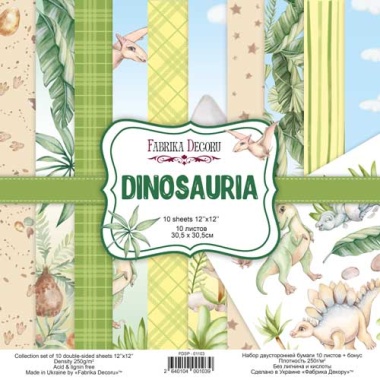 "Dinosauria" is a bright, mischievous, sunny children's scrapbook paper collection. It immerses you in the world of childhood, games, adventures, and joy. When every day is a surprise... when there are thousands of "why?" for every word... All these emotions are conveyed by little dinosaurs who have just come to this world and get to know it together with your little ones. The set includes background sheets and collages with the main characters of the collection - little dinosaurs. These illustrations were drawn specially for TM Fabrika Decoru. Lovely heroes will create a living story on the pages of photo albums, baby books, postcards, as well as decorate the wall of a children's room, and help arrange a gift for a baby.
Features:
Bonus – a sheet of images for cutting

Set of double-sided paper 30,5cm x 30,5cm (12"x12")

In a set of 10 sheets.

Density 200g.sq.m.
Produced by TM "Fabrika Decoru", Ukraine