Soodus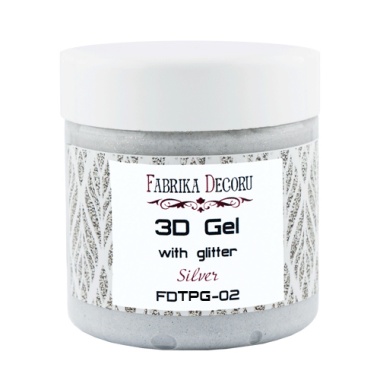 3-D gel with glitter - the structural gel with flickering particles. Can be used in scrapbooking, decoupage, arts, hobby and various types of creativity. 3-D gel is used to create volume, shiny accents, easily applied to any clean surface (ceramics, wood, paper, cardboard, primed canvas, metal, glass, plastic). 3-D gel dries quickly, after drying it has a rough structure, does not fade, has a high opacity, flickering with glitter, creates a volume and a clear texture. 3-D gel can be applied with a palette knife, a brush, through a stencil, like as an independent accent also.
Features of application:
Rinse brush and tools immediately after use.

After contact with skin wash it off.

Store in tightly closed containers at temperatures between +5°C and +30°C.

Not for children under 14 years.

Volume: 150 ml.

This product may not transported at the temperature below +5°C.
Produced in Ukraine, TM "Fabrika Decoru